This website is no longer active.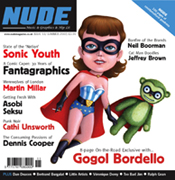 ISSUE 11
OUT NOW!
Nude Magazine issue 11: Featuring 100 pages of countercultural goodness in full colour and on high quality art paper.
IN THE CURRENT ISSUE...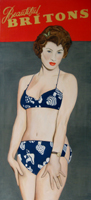 GOGOL BORDELLO
Our man on the scene Swax McIver went on the road and got up close and personal with this band, in whose case for once you CAN believe the hype. He tells his story in words and pictures.

VERONIQUE DOREY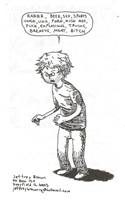 Our brilliant cover artist. She's been beavering away on this stuff in secret for years now. We're among the first to show it.

SONIC YOUTH
An exclusive interview and photo shoot with Kim Gordon of this iconic band.

MARTIN MILLAR
One of the UK's best authors talks to Nude about his new novel 'Lonely Werewolf girl', happiness, pop tarts and his experience of agoraphobia.

ASOBI SEKSU
Means 'strange sex' in Japanese apparently. Their beautiful singer gives the lowdown from her little black book.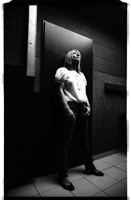 OUTSIDER MUSIC
We talk to Dean Deacon and Ralph Gean. Very different musicians in every way.

FANTAGRAPHICS
This influential publisher has brought the work of the world's best comic artists to the masses. From Dan Clowes to the Hernandez brothers. We pay homage to them on their 30th birthday.

JEFFREY BROWN
His small illustrated books of autobiographical angst have touched us for years. So we met up with him…

BONFIRE OF THE BRANDS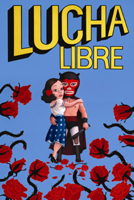 One day last year Neil Boorman decided to set fire to all of his branded possessions and live a brand-free life. We found out why.

MAFIA MEALS
Long term US prisoner Seth Ferranti writes about his experiences of mafia dinner parties in jail. Turns out those scenes in Goodfellas are true after all.

PLUS Beautiful losers, Cathi Unsworth, adventures in stereo. music, film, book reviews and more.

All this for only £3.50 if you buy it from this site. Click here to go to the BUY IT page. Buy the current issue here. View our back issues here. Or subscribe here.
FABULOUS FREEBIES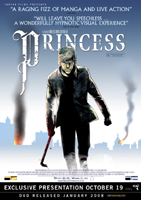 PRINCESS is showing at the ICA on Friday the 19th as part of the ICA's prestigious COMICA festival. To celebrate we've giving away a limited edition PRINCESS tshirt, a mini poster plus copies of the graphic novels Judge Death and Buja's diary. Competition closes on FRIDAY the 19th. To enter just email us with the title PRINCESS and your name and address in the main body of the email. Great film...good luck....
Competition sponsored by Turnaround publisher services

Even more stuff in the Nude shop. Check out the art page, which also includes vinyl toys as we couldn't work out where to out them! More stuff than you can shake a stick at.
Posted August 10th

After 4… 1,2,3,4 … 'once I had a love and it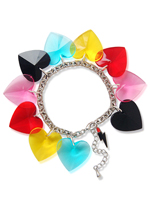 was a gas / Soon turned out, had a heart of glass.' Loads of great new stuff in the Nude shop. We've got cds (on the books page, but there you go. We don't have a cd section, so as Tony Soprano would say 'What you gonna do?') And new lady Luck jewellery goodies, including the Heart of Glass bracelet, Lipstick lightning flash necklace and more.
Posted April 3rd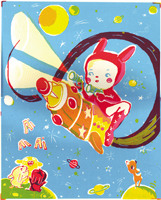 Check out this beautiful print by Rachel Ortas, who we've featured in issue ten of Nude. See it close up HERE on our shop page
Posted March 18th
Lots of new reviews on the REVIEW pages. Why don't you write some and send -'em in too. Music PRs please note, we can see through it if you send in a glowing review of one of your own acts!
Posted Dec 7th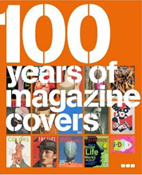 We're featured in a book! And a very fine one it is too. Alongside the likes of luminaries such as Rolling Stone magazine, Oz, Time Out when it was good and so on you'll find little old us. Hooray!
Posted Dec 7th